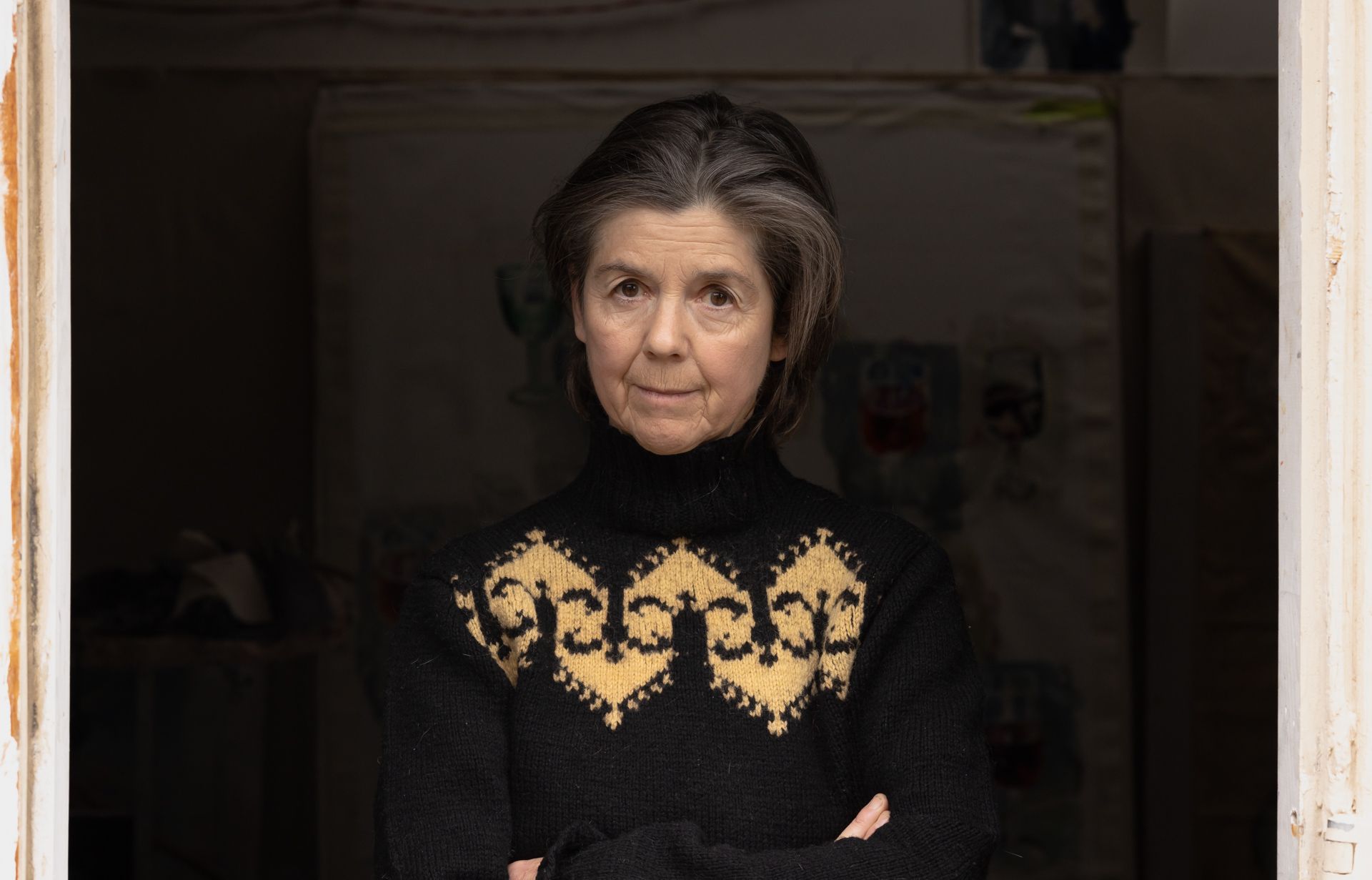 I am attracted to the the idea that doing art is like going to confession and changing something negative into something positive. Depending on your perspective that could be read as Metamorphoses, double meaning, or better still, ambiguity over what is exactly what, when? "I strive to give my work a like sensibility: what exactly is what, when?"
1960 born Bamberg, Germany
1982-88 Akademie der Bildenden Künste (Meisterschülerin Per Kirkeby)
Karlsruhe Germany
Single/Two Person Shows
2023 Heimlich, Track16 Gallery. Los Angeles, CA
2022 Molting (with Katy Crow), LATate, Los Angeles, CA
2019 Zauberberg, Zwinger Galerie, Berlin D
Beyond Good and Evil (with Caro Suerkemper), Kunstverein Schwaebisch
Hall, Schwaebisch Hall D
Asteroid und Magen (with Astrid Stricker), Taut Haus Berlin D
Test Beyond Good and Evil, Cubist Spinoff, Los Angeles CA
2016 Smaller Than Life, Zwinger Galerie, Berlin D
2013 An Old Subject Made Older, Zwinger Galerie, Berlin D
2011 I Confess, Zwinger Galerie, Berlin D
2010 I Confess, Haus, Pasadena, CA
Seen But Not Heard, L. A. Valley College, Van Nuys, CA
2007 Suerte, Zwinger Galerie, Berlin D
2004 Church of Blind Faith, Space Gallery at the YMCA, Los Angeles, CA
Church of Blind Faith, Galerie Sutter-Kress, Erlangen
Church of Blind Faith, Zwinger Galerie, Berlin D
2001 Kaskadeur, Zwinger Galerie, Berlin D
2000 LP, Schloss Wiepersdorf, Wiepersdorf D
1999 Tableau Vivant, Zwinger Galerie, Berlin D
1998 Die Evolution der Bilder, Kunstverein Bremerhaven, Bremerhaven D
Ueber-Menschen, Soma Produzentengalerie, Berlin D
1996 Mascha und Gelb, Galerie Brochier, Münich, D
Mascha und Gelb, Zwinger Galerie, Berlin D
Mascha und Gelb, Galerie Beck, Erlangen D
1992 Bitte Nicht Stören (mit Bernhard Haertter), Akademie der Bildenden
Künste Karlsruhe, Karlsruhe D
Group Shows
2022 A little girl's horse craze, Zwinger Galerie, Berlin
Summershow, Ladiesroom, Los Angeles, CA
6 aus XX, obqo, Berlin, D
2021 Bozomag, Los Angeles, CA
Garden, Ladiesroom, Los Angeles, CA
2020 Totentanz, Zwinger Galerie, Berlin D
Don't Look Back, Pøst/MIM, Los Angeles CA
2019 Stillleben, Zwinger Galerie, Berlin D
2015 Miaber, Art Center, South Florida, FL
2014 My Blood Whispers To Me, Pøst, Los Angeles CA "
2013 Woods, Zwinger Galerie, Berlin D
2012 Import/ Export, Transdisciplinary Plattform for Art, Kassel D
The Happy Fainting of Painting, Zwinger Galerie, Berlin D
2011 The Golden ASS, Annie Wharton Gallery, Los Angeles CA
2010 Vor dem ZKM, ZKM, Museum fuer Neue Kunst, Karlsruhe D
Papierfile #5, Galerie oqbo, Berlin D
2009 Miscellenea, Zwinger Galerie, Berlin D
Blickmaschinen, Centro Andaluz de Arte Contemporáneo, Seville, Spain;
Blickmaschinen, Mücsarnok Kunsthalle, Budapest, Ungarn
2008 Red in Tooth and Claw (with Garret Carr), PS2 Paragon Studios, Belfast,
Ireland
Blickmaschinen, Museum für Gegenwartskunst, Siegen D
Berlin Bouquet, The Living Room, Amsterdam, Holland
2006
Dezentral, Neuer Kunstverein, Giessen
Drawing Room, Chung King Project, Los Angeles, CA
Essen, Galerie Billing Bild, Baar, Schweiz
Sieben, Galerie Hartwich, Rügen D
Flic-Flac, Kunst aus Berlin,, Berlinische Galerie, Berlin D
2005 Alle-Gory, Mandarin Gallery, Los Angeles CA
The First Annual L.A. Weekly Biennial, Track 16, Los Angeles CA
Endreime, Galerie Hengevoss Dürkop, Hamburg D
2004 Medium Medien, Kunstverein/Kunsthalle Lingen, Lingen D
2002 Kunstpreis der Volksbanken und Raiffeisenbanken, Kunstwerke, Berlin D
2001 14th Stuttgarter Film Winter, Stuttgart D
1998 Die Unruhe und die Zufriedenheit, Badischer Kunstverein, Karlsruhe,
(Katalog) D
1997 Group Show, Zwinger Galerie, Berlin D
1996 Contrapartida, Kunstspeicher, Potsdam D
Prospekt Kransnojarsk, Kunst auf Kampnagel, Hamburg D
Schöne Aussichten, U-Bahn Alexanderplatz, Berlin D
1995 Himmel und Erde, Dominikanerkloster, Frankfurt am Main D
1994 Zeichnung, Galerie Borgemeister, Berlin D
Prospekt Krasjonarsk, International Bielka Symposium, Moscow, Russland
1993 Der König Ist Tot, Galerie Mutzek, Berlin D
1991 Salon, Museum of Contemporary Art, Moscow, Russia
Heute, Künstlerhaus Bethanien, Berlin D
Public Collections
Berlinische Galerie, Berlin
Kupferstichkabinett, Berlin
Neuer Berliner Kunstverein, Berlin
Stipends/Awards
2006 Kunstfonds Bonn, Bonn
2001 Kunstpreis der Deutschen Volksbanken und Raiffeisenbanken
2000 Stipendium, Schloss Wiepersdorf, Wiepersdorf
1997 Stiftung Kulturfond, Berlin
1996 Arbeitsstipendium des Berliner Senats Für WFK, Berlin
1995 Hoppe-Ritter Kunstförderung, Stuttgart
1993 Stipendium des Berliner Künstlerinnen Programms
1991 Goldrausch Künstlerinnennetzwerk, Berlin
1988 Landesgraduiertenstipendium Baden-Württemberg, Stuttgart

2006
Kunstfonds Bonn, Bonn

2001
Kunstpreis der Deutschen Volksbanken und Raiffeisenbanken

2000
Stipendium, Schloss Wiepersdorf, Wiepersdorf

1997
Stiftung Kulturfond, Berlin

1996
Arbeitsstipendium des Berliner Senats Für WFK, Berlin

1995
Hoppe-Ritter Kunstförderung, Stuttgart

1993
Stipendium des Berliner Künstlerinnen Programms

1991
Goldrausch Künstlerinnennetzwerk, Berlin

1988
Landesgraduiertenstipendium Baden-Württemberg, Stuttgart
Teaching:

2004 – 2005
Visiting Professor, J W v Goethe Universität Frankfurt am Main, Frankfurt am Main

2000
Visiting Lecturer, Sheffield Hallam University Fine Arts, City, England
Akademie de Bildenden Künste, München
Education:

1982-1988
Akademie der Bildenden Künste Karlsruhe, (Meisterschülern (MFA)with Per Kirkeby)

1985
Art Akademie, Trondheim, Norwegen

1988
Art Akademie, Helsinki, Finnland

2002
You'll Lose All Your Fear…, Margarete Hahner und Autoren [Berlin, Germany].

1992
Bitte Nicht Stören, Margarete Hahner/ Bernd Fischer [Berlin].
Bibliographie:

2016
Blouartinfo
Natalia Masewicz, 31 Maerz
2009
Izbinski, Justin, ARTUs, #2/2009, p. 17.

2005
Harvey, Doug. "State of Emergence: Undiscovered Cracks in the Art World," LA Weekly [Los Angeles] 8 October 2005, p. 54.

2004
Mueller, KB. "Das Unheimelige im Heimeligen," TAZ [Berlin] 3 December 2004.
Jauslin, Kurt. "In der Kirche des Unheimeligen Glaubens," Erlangener Nachrichten Erlangen, 5 May 2004.

2001-2
"Kunstpreis der deutschen Volksbanken und Raiffeisenbanken," Ausstelllung.
born in Bamberg D
lives and works in Berlin and Los Angeles